Configure external mailserver / Change MX record
You can choose to have your e-mail delivered externally to a different e-mail provider. To this end, you must adjust the so-called MX record . The MX record determines where the e-mails of your domain name are delivered . You can change the MX record via the customer panel and via DirectAdmin.
Adjusting MX record via the customer panel:
Login to the customer panel and go to My Products -> Domain names -> Overview -> Click on the arrow behind domain -> Switch on DNS management. You are now taken to the overview of all your DNS records.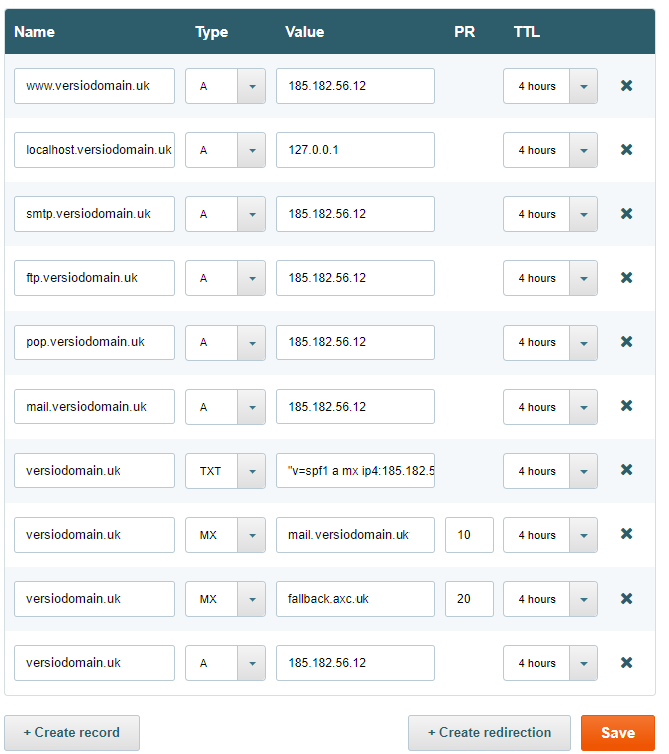 In this screenshot you will see 2 MX records. Under PR, you'll see two numbers, 10 and 20. This is the order of mail servers to which the mail is to be delivered. If the mail server with PR value 10 does not respond, the next MX record will automatically be attempted.
Your e-mail provider will give you an IP address to which the mail is to be delivered. You cannot configure it as MX record, you must first create an A record of this. The IP address of your mail server is 1.1.1.1 for instance, in which case you change the mail.domainname.uk A record to the IP address of the mail server.
Within 4 to 24 hours, the DNS will have been adjusted and your e-mail will be delivered externally.
Please note if you activate dns management it will automatically set all records to the parking nameservers 185.XXX.XX.XX. These should all been adjust to the hosting package. If u don't enter these and disable dns management without adjusting. The nameservers will be reset and u will have to reconnect the domain to the nameservers. https://www.regtr.com/articles/156-how-do-i-link-a-domain-name-to-a-webhosting-or-reseller-hosting-account
If the domain name has already been created in DirectAdmin and connected without the dns management in your Versio Customer panel, you must change a setting here. U have to let DirectAdmin know that the e-mail of this domain name is delivered externally. You can do this under the heading MX records in DirectAdmin:
Aradığınız Bilgiyi Bulamıyor musunuz?
Bilgi bankasını detaylı olarak incelediniz, fakat ihtiyacınız olan bilgiyi bulamıyorsanız,
Bir Destek Talebi Oluşturun.